I finished bingeing (or is that binging – nope, doesn't look right) Narcos: Mexico. It was great. I mean, I wouldn't put it anywhere near shows like The Sopranos or The Wire, but it's a high quality production featuring some great acting and an amazing but true (well, mostly) storyline. It's also reminded me that I should go watch Scarface again, which is exactly what I'm doing just before I started writing this WNR.
Also watched Alpha, suspected animal abuse aside, loved it for the beautiful cinematography and simple story.
And yes, there was still time for some news …

Discs sales are on the decline, that's clear as day. Blu-ray sales peaked in 2013, it appears, while DVD sales peaked long ago. While Ultra HD Blu-ray has lifted Blu-ray's numbers a bit, the general trend is still down, especially for DVDs.
The very first Black Friday sales figures I tracked for DVDs had the revenue for the week at $386.35 million (this was in 2008). This Black Friday, that figure has dwindled down to $116.45 million.
Sure, Blu-ray revenue rose from $27.68 million in 2008 to $104.37 million in 2018, but that doesn't come anywhere near plugging in the hole left by declining DVD sales.
But according to an EVP at Lionsgate, the decline in discs sales isn't happening everywhere, and in rural USA, sales are still going strong. 
And the recent Black Friday sales also show one important thing – people still do buy discs in great numbers, but only if the price is right. The discounting of UHD titles from their usual $25 to $9 on Amazon really helped, and that's because the perceived value of discs have dropped in a day and age where $11 per month gets you thousands of titles, including many exclusives, like Narcos: Mexico, that you would have paid good money to watch and own previously.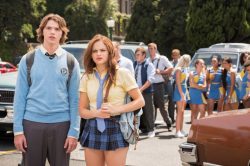 Speaking of Netflix Originals, the streaming giant has put together a review of 2018 in terms the most "popular" shows and movies that have premiered in 2018. Netflix is notoriously shy about releasing actual watch figures, so they've used some interesting metrics to measure the popularity of shows, movies and even the fastest rising stars. The Kissing Booth was the most popular Netflix original film because it was the most re-watched; On My Block just beat out Making a Murderer: Part 2 as the most popular original series because it had the higher average watch time per viewing session (I think that's what you would normally call binge-factor), and The Fab Five from Queer Eye were the most popular stars because their Instagram follower count increased the most. 
And you know what, hardly any of the movies and shows listed by Netflix will ever make it to Blu-ray or DVD. And this, perhaps more than pricing, is the biggest obstacle facing physical media.
======
Alright then, that's all for the week. There won't be a WNR next week as I'll be away for the weekend at a wedding. Might not be one after that as well, considering it's so near to Christmas and all that, but will try to pop on and say hello. And now, back to Scarface.