One of the limitations to providing really complete parental controls in the past was that all users of the computers were administrators and could probably undo most of the settings the parent tried to enforce. Windows Vista helps solve that problem by enabling people to use Windows without administrator privileges and adds a robust set of Parental Controls that parents can use to ensure their children are accessing appropriate programs and Web sites, when it is appropriate for them to be doing so.
To illustrate how the Family Safety Settings work and how they are integrated with User Account Control, I will use characters in a fictitious family where Abby is the parent and Toby is the child. Abby and Toby are people that we've been using for years in developing Windows Vista and you will see these names often in screenshots on Microsoft.com and in demonstrations of Windows Vista.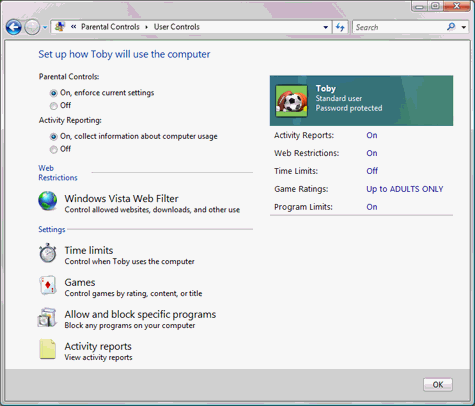 Integral to the successful use of parental controls is the concept of User Account Control, and individual, non-administrator accounts for each user. Abby empowers Toby by giving him his own logon account, but with parameters that ensure she can confidently give him his independence within that account.
After creating an account for Toby, Abby enables Parental Controls on Toby's account through the Control Panel. Abby can chose to limit what Web sites Toby can visit, what programs and games Toby can use, what time he can use the computer, and she can also access a report on all of his activities. Parental Controls in Windows Vista gives parents the option of taking a more active role in their children's safe computer use, if they so choose, and can facilitate some healthy discussions about boundaries and how to stay safe online.
More...
Credit: UACBlog