Software you will need:
broken link
new link
ftp://ftp6.nero.com/tools/InfoTool.zip
---
The Nero Info Tool utility retrieves your computer system information. This information includes system drives, operating system, drivers listing, etc. This program analyzes and displays the main characteristics of drives, disks and the installed software. This information can also be printed or saved to a text file.
It can analyze and display important information about the media currently in the drive, whether it be a blank DVD or a previously burned DVD. It works for DVD-R, DVD-RW, DVD-R DL, DVD+R, DVD+RW, and DVD+R DL media. It will tell you if its single layer, dual layer, or double layer. It list all the burning speeds that is supports. It also gives the total blank capacity of the disc. It gives you the "Manufacturer ID" (aka Media ID) of the disc so that you can see who actually makes the dye.
Furthermore it will list all "video" and "audio" codec you have installed. Very handy if you are trying to determine if you have a specific codec installed or not.
---
If you have Nero installed on your system, chances of having Nero InfoTool is almost certain. To start it, click "Start", then go to "All Programs" or "Programs", then click "Ahead" or "Nero", then click Nero Toolkit, then click "Nero InfoTool".
As soon as you start it up, it will "analyze" your system and gather all the necessary information it needs. (Screen Shot Below)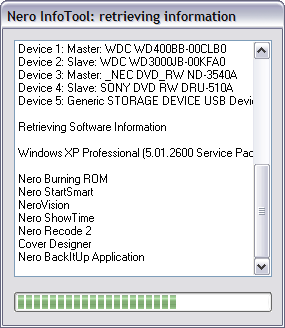 ---
It will then present you with this screen with 7 tabs at the top (red) that cover specific areas. It also has 3 useful buttons located at the top, the "Save As" button, the "Print" button, and the "Refresh" button (blue). If you have more than 1 drive installed on your computer, you need to select the appropriate drive so that InfoTool can correctly tell you the limitations of that drive(green). (Screen Shot Below)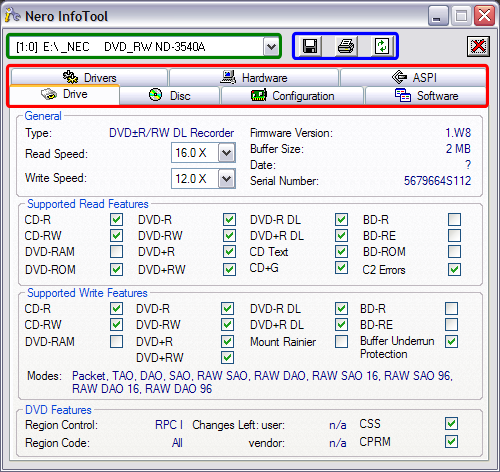 ---