PQ DVD to iPod Video Converter is a one-click, all-in-one solution to convert DVD, Tivo, DivX, MPEG, WMV, AVI, RealMedia and many more to iPod Video.
PQ DVD to iPod Video Converter supports all kinds of video formats including: DVD, DivX/XviD video, avi, wmv, mpg, mpeg, dat(VCD), rm, rmvb, Tivo2Go, dvr-ms, qt, mov(ver 2) and more. DVD subtitle is also supported.
PQ DVD to iPod Video Converter software run on PC (Microsoft Windows 9 8/ME/NT/2000/XP) to convert DVD movies, videos into iPod video. (No Mac OS version has been planed yet)
Apple iPod (with video) is required. (It is a new iPod model released in Oct, 2005.) Other iPod models (e.g. nano, shuffle, etc) does not support video playback.
---
Software you will need:
PQ DVD to iPod Video Converter is not a "decrypter" - it can only deal with DVDs that do not have copyright protection.
---
Go ahead and start up PQ DVD to iPod Video Converter. Now click the "Open" button and select either "Open DVD..." or "Open File..." (red). Select "Open DVD" if you are opening files from a DVD or select "Open File" if you are opening a .wmv, .mpg, .mpeg, .avi, .dat file. [Screen Shot Below]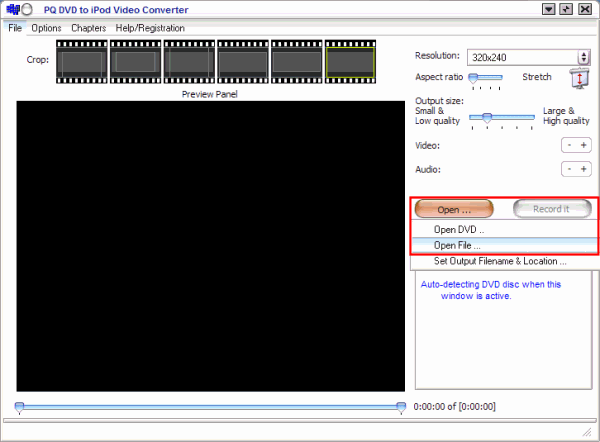 ---
After selecting the folder of your choice, it will automatically load and fast forward itself to the main menu. When it gets to the menu, go ahead and set it up just as you were watching on your DVD player. Pick which audio stream (DD, DTS etc.), which language you want, and pick if you want the subtitles on or not. When you are ready, click "Play" or "Play Movie" on the menu screen.
Now as soon as the "Record It" button (red) turns red and becomes active, hit the "Pause" button (blue) to pause the movie. Now here is where we would change the settings to our liking. Such as the Output Size, Audio Quality, and Video Quality (green). The lower the quality, the smaller the file size and vise versa. [Screen Shot Below]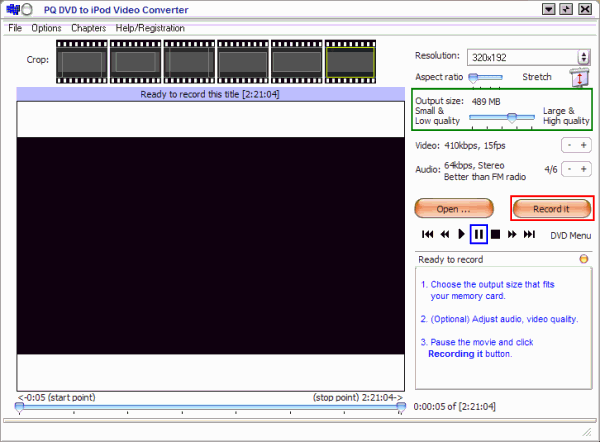 ---
When your ready, just click the "Record It" button to begin. While its recording, the audio for the movie is turned off and your screen saver is disabled.
At the bottom of the PQ DVD to iPod Screen it tells you alot of handy information (purple) such as:
How much is recorded
How much time has gone by
How much time is remaining until its finished
The proposed file size
Where the file is on your hard drive