Game Consoles – April 2008 NPD Sales Figure Analysis
The April 2008 NPD game console sales figures for the US has been released. This is the first month to include GTA IV numbers (albeit only the last few days of April), and there's also Mario Kart on the Wii as well. A bumper month that is dominated by GTA IV in terms of software sales, but the hardware figures tell a different story. My prediction last months was this:
… the 360 will do very well in April due to GTA IV, if not in hardware sales, then in software sales … What's really interesting is to see if the Wii will continue to have another good month, or will it suffer from not being on the GTA IV bandwagon? But then there's Mario Kart, so you never know.
I think my prediction could be considered correct, although barely. It's certainly more accurate than that guy Pachter over Wedbush Morgan, who predicted twice in a row that the PS3 would outsell the 360, but has been wrong twice in a row. You can read last month's analysis here. The figures are from NPD, a marketing research firm that releases games console sale data every month.
The figures for US sales in April are below, ranked in order of number of sales:
Wii: 714,200 (Total: 9.5 million)  
DS: 414,800 (Total: 19.6 million)  
PSP: 192,700 (Total: 11.5 million)
Xbox 360: 188,000 (Total: 10.1 million)
PS3: 187,100 (Total: 4.2 million)
PS2: 124,400 (Total: 42.1 million)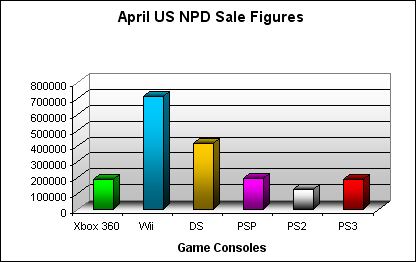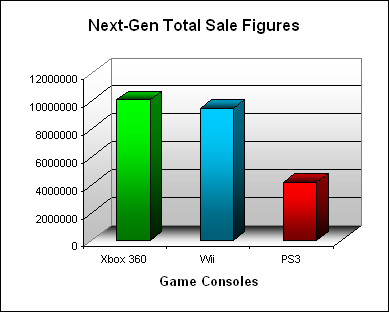 From the hardware results, it looks like that April was another great month for the Wii and that GTA IV had no positive effect on hardware sales at all. In fact, hardware sales for both PS3 and the Xbox 360 were down compared to the previous month. This is something no analyst had predicted, and it is a bit of a surprise. Perhaps May will tell us more, as maybe people were waiting for buy GTA IV hardware bundles which will be available in May. It is also worth noting that March included 5 weeks of sales results, whereas April only includes 4 (but this alone does not explain the 360/PS3 drop).
Whatever the reasons, the 360 again out-sold the PS3, although by only 1,000 units or so. There hasn't been this GTA led surge in PS3 sales as some have predicted due to people upgrading their PS2's to play the previously PlayStation signature title. Again, perhaps that will materialize in the May figures instead. Another explanation could be that people who are likely to buy GTA games are those more likely to have already bought themselves a PS3/360, and so there's no hardware sales surge coming. My opinion in that May will be the month to watch if you want to see GTA related hardware sales figures, as people without a PS3/360 will look at the GTA related fanfare, wait until the expected price drops/bundles occur, and then get themselves a new console with GTA IV included. This would explain why the software chart was dominated by GTA IV, yet the hardware chart went the opposite way.
What can you say about the Wii that people haven't already said? Amazing sales performance and seems to be getting stronger the longer it goes. The Wii almost double the sales of the PS3 and 360 combined (that's nearly four times the sales of each of these consoles). Aiming a game console at the non gaming market was a stroke of genius (of course had it failed, we would call it something else entirely). Wii sales have been helped by Wii Fit and Mario Kart, two hit titles that was arriving in late April/early May and which may have laid the foundations for April's Wii hardware performance.
Now onto software sales, where as mentioned before, GTA IV dominated. And it's a huge victory for the 360, when most analysts expected a close race between the 360 and PS3 versions of the game, with some even suggesting the PS3 will benefit more. Here's the top 10 chart:
While GTA IV certainly dominated, it was Nintendo again the winner as they had 4 titles in the top 10. The Xbox 360 had 35.7% of all software sales, closely followed by the Wii on 35.1. PS3 software sales remain relatively poor at 22% while the DS rounded out things on 7.2%.
The Xbox 360 version of GTA IV sold 1.85:1 compared to the PS3 version, which is a little bit less than the 2:1 ratio some analysts have claimed. This is not as bad as it seems for the PS3, as the Xbox 360 has a 70/30 lead over the PS3 in hardware sales, but only a 65/35 lead when it came to GTA IV sales. But I suppose that's little comfort for Sony whose fortunes where definitely helped by the GTA series being timed exclusives on the PS2. As for all those that predicted the PS3 version would outsell the Xbox 360 version due to people upgrading their PS2's, that may happen but it won't be sudden and I think if people are happy with their PS2's, they won't upgrade to PS3's no matter what (unless it becomes dirt cheap).
What could be considered disappointing for Wii is that third-party games don't seem to sell well on the platform. All the best selling titles are first-party games by Nintendo, and this can't go on for too long without developers turning their resources to the other consoles. You will have to admit that nobody really knows how to exploit the Wii as well as Nintendo, and the Wii is an extremely difficult system to get things right on (ensuring games work well with the Wii-mote and nunchuck is a much bigger design challenge than most developers are used to).
So it's all eyes on May yet again. Will the Wii continue to perform as well, or will the GTA led hardware surge materialize?  Can the Xbox 360 version of GTA IV retain the 1.85:1 sales ratio compared to the PS3 version, or as some emerging reports tell us, could the lead actually grow wider? My prediction? I'd rather not, since most of us got it wrong for April when it came to GTA led hardware sales. But predictions are free, and I have no reputation to protect anyway so here's goes: I predict there to be a 360/PS3 sales surge compared to this month (well it can't go any lower, can it?). But the Wii sales will remain high, if not go higher thanks to Wii Fit (does that count as a software or hardware, or accessory?). GTA IV will continue to dominate the software charts, with the 360's lead slightly narrowed compared to the PS3 version. Mario Kart and Wii Fit will sit highly on the software sales chart too (assuming Wii Fit counts as software). So it's yet another wiin for Nintendo, I suspect.
See you next month.