Game Consoles – November 2007 NPD Sales Figure Analysis
The figures have just come out and there are some interesting developments, as predicted last month. November is always a crucial months for sales figures because this is when the traditional holiday sales period begins – to do well now in console sales will bode well for next year's software sales. You can read last month's analysis here. The figures are from NPD, a marketing research firm that releases games console sale data every month.
The figures for US sales in November are below, ranked in order of number of sales:
DS: 1,530,000 (Total: 15.1 million)  
Wii: 981,000 (Total: 6 million)
Xbox 360: 770,000 (Total: 7.9 million)
PSP: 567,000 (Total: 9.4 million)
PS2: 496,000 (Total: 39.9 million)
PS3: 466,000 (Total: 2.4 million)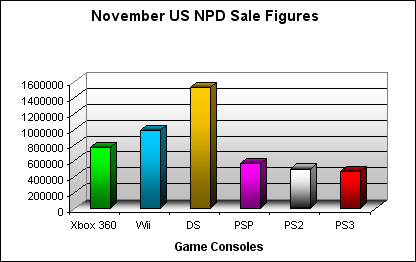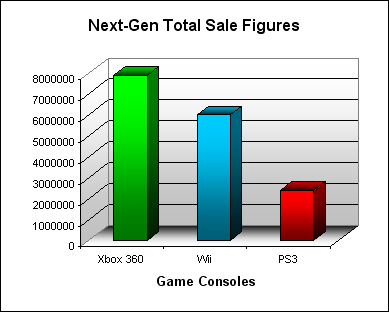 The first thing that strikes you as compared to previous months is the surge in sales for the Nintendo DS. It has gone from being second place, behind the Wii, to being top by a huge margin – a 234% increase as compared to last month! Otherwise, all the consoles have sold in greater numbers – the total sales of all game devices rose nearly 150% as compared to October's figures.
The Wii has had a great month, nearly shifting a million units despite stock shortages. The Xbox 360 is doing quite well as well, easily breaking October's record (October being "Halo 3" month). PS3 sales nearly quadrupled (285% increase), thanks to the new 40 GB PS3 and on going promotions. But even such an increase, the next-gen market is still being dominated by the Wii and 360, with the 360 still holding a healthy lead over both the Wii and PS3 in terms of total consoles sold in the US. This month's next-gen sale percentages show that the 360 held 34.7% of the next-gen market (down from 36.4% last month), the Wii with 44.3% (down from 51.6%) and the PS3 rose 21% (up from 12%). What it appears to show was that the PS3 sales gained market share mainly at the expense of the Wii and to a much lesser extent, the 360 – the lack of Wii stock might be a contributor here. Total sales figures to date suggests the Xbox 360's lead has shrunk to just below 50% (48.5%, down 2.3%), with both the Wii (36.8%, up 1.1%) and PS3 (14.7%, up 1.2%) gaining, albeit by only slightly more than 1% each. 
The portable market was dominated by the DS, and Sony will be disappointed that PSP sales did not increase as much as DS sales (the previous month's 62/38 split in sales is now a much more impressive 73/27 split for the Nintendo handheld).
The real problem for the PS3 now is not so much dominance of the Wii – Wii gamers are not always going to translate into PS3 gamers – but rather the way Xbox 360 is managing to hold on to it's impressive lead. I'm sure Sony execs and fanboys alike expected 360 sales to slowly decline after the release of the PS3, but instead, sales have increased by a good amount, most likely due to the strong exclusive software lineup. The good news for Sony is that the PS3 is gaining market share, but perhaps too slowly for Sony's liking – even though PS3 sales went up 285% in a single month, due to the 360 sale also rising (but at a slower rate), this incredible quadrupling of sales would only give PS3 parity with the 360 if it continues to make the same gains as it did this month. For this to happen is unlikely, since this month saw a jump in sale largely due to the price drop associated with the once off release of a new cheaper version of the console. If Sony can continue the price drops, then they could pull even within 2008, but whether Sony can afford to do it or not is another matter. And this will just spur more price cuts by Microsoft too, and they could afford it by recouping money lost from strong games sales. However you look at it, Microsoft's decision to launch their console a year earlier has been a gamble that's paid off – they've got themselves a very strong foothold in the console market, and it has set up a great platform for them to launch their next console (as opposed to launching the 360 off the very limited success of the original Xbox).
As for Nintendo, let's just say that those who hold Nintendo stock will have a very happy Christmas indeed.
See you next month.