COVID-19 Pandemic: U.S. Blu-ray Sales Falls to Almost 10 Year Low




Several tough months awaits the home entertainment industry, as movie releases dry up and the economic pain starts to be felt
Image/Photo Credit: edenpictures @ Flickr, CC
Weekly Blu-ray sales fell to its lowest level since September 2010, as the effect of the Coronavirus outbreak in the U.S. is hurting the movie industry in and out of theaters.

According to data provided by Media Play News and compiled by Digital Digest, weekly Blu-ray revenue for the week ending June 6, 2020, was only $16.35 million, the lowest mark since September 11, 2010 (when Blu-ray revenue was $14.65 million).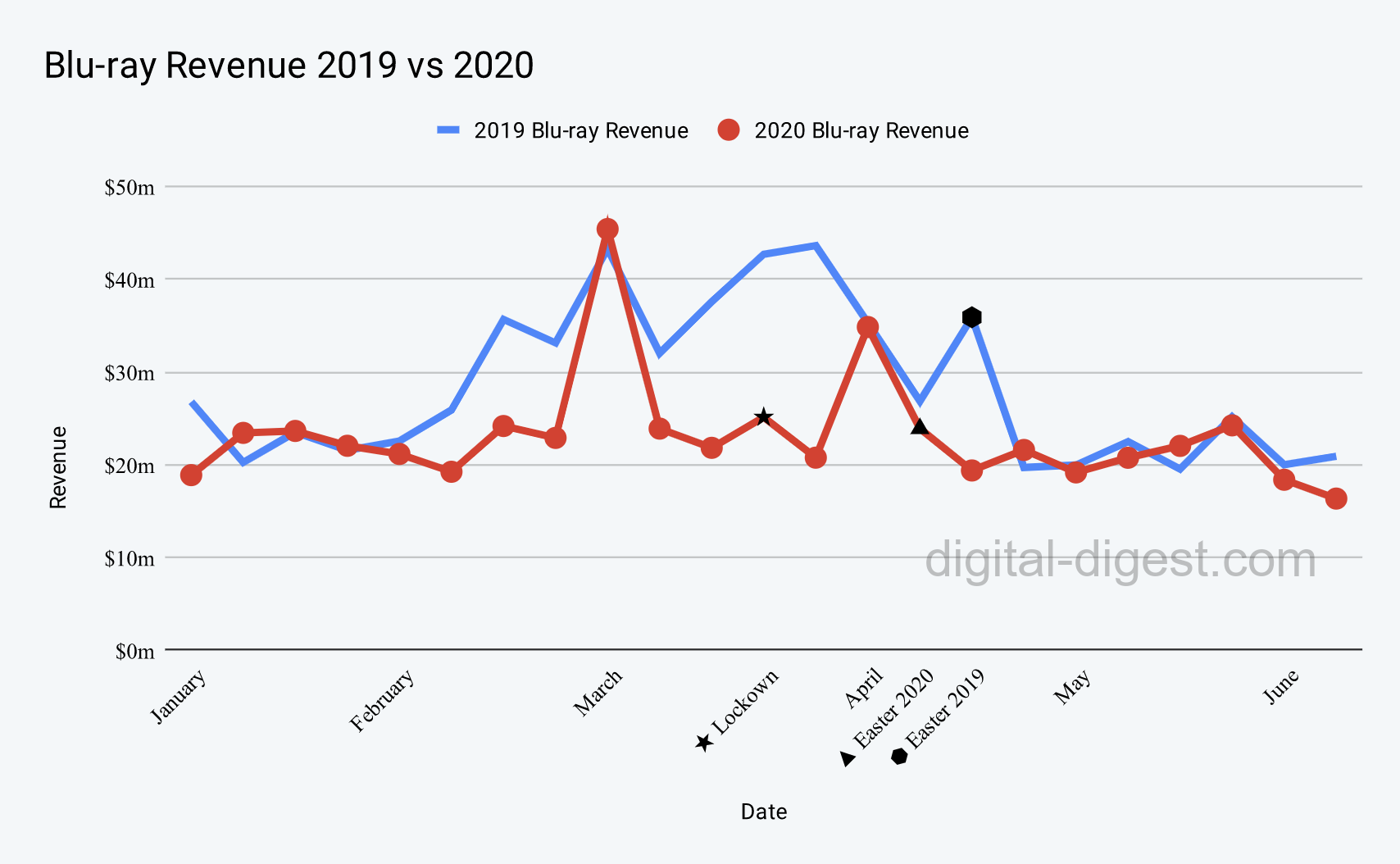 A combination of poor retail sales and a lack of high profile releases are thought to be responsible.

The writing was already on the wall when the usually busy Easter period saw sales stagnating. Blu-ray and DVD sales were down 33% compared to Easter 2019, despite many sales occurring online where activities for the purchase of other goods have surged since the lockdown.

Just two weeks prior to the week ending June 6, the release of 'Sonic the Hedgehog' on Blu-ray marked the last major film coming to home video for a while. 'Sonic' was the last major movie to be released theatrically before lockdown measures, designed to slow down the outbreak, forced theater doors to close in the U.S. and in many other places elsewhere. Since then, scores of movies have had their theatrical release delayed, or in some cases, cancelled completely in favor of premium on-demand or subscription based streaming.

The effects of the lockdown and economic downturn on Blu-ray sales have been small, but present, for 2020 so far. Blu-ray sales were down 18.52% compared to the same period in 2019, which in itself was down 17.40% compared to 2018. Physical media sales have been declining steadily due to the increasing popularity of streaming and digital rental/purchases, with Blu-ray revenue having peaked in 2013. So it is difficult to separate what is attributable to the format's gradual decline, and what is down to the effects of the COVID-19 pandemic.

Initially, there was some optimism that with people confined to homes, online sales of Blu-ray and DVDs would benefit as people seek to find ways to entertain themselves.

However, movie sales are very much seasonal and dependent on good quality new releases. With no major films coming to theaters until July, and therefore no major films ready to come onto Blu-ray for months, it suggests a dry spell of dry spells for home video releases. The ongoing economic pains could also dampen people's enthusiasm for buying and renting movies.

In other words, the worst may be yet to come.
posted by: Sean F, 20:51 AEST, Wed August 21, 2019
posted by: Sean F, 17:39 AEST, Thu April 30, 2020
posted by: Sean F, 21:15 AEST, Thu June 18, 2020
posted by: Sean F, 16:26 AEDT, Thu November 7, 2019

Are you looking forward to going back to the movie theater?