Nintendo & NERF have come together to bring you the Nerf Blaster controller bundled together with their new game "NERF N-Strike". Now Wii players can play just like they used to with NERF but not worry about shooting their friends in the eye.
The NERF Wiimote goes on right over your existing Wiimote for a real life gun feeling. You can not only shoot them on screen but shoot them in the back of the head while they are playing against you.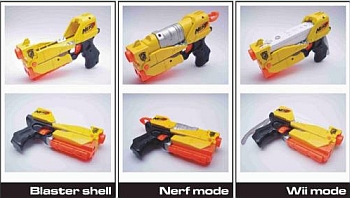 While the exact pricing has yet to be determined, Nintendo is saying about $60 with extra blasters costing about $15 a piece.