No wonder the HD-DVD camp made it early to the stores with the first generation players - it is quite a bit easier to make your product based on mature PC technology and software. Lorin Thwaits has done the world a favour and diassebled his brand new Toshiba HD-A1 into pieces. Inside he discovered a NEC IDE-connected HD-DVD drive and basically a mini-PC system based on Red Hat Linux.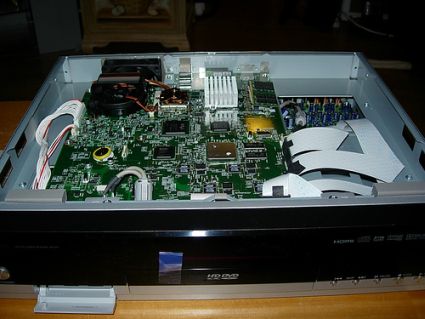 For $560 one expects to get a rather high end audio/video player. Since the player is based on PC technology, there is reasonable doubt that the players' components are quite not the same quality you can find in higher end DVD players. If you look at these photos posted on a Norvegian discussion group, the device looks more and more suspicious.
Being a PC based machine, it seems that the HD-A1 would be a rather hackable device. It will be interesting to see if someone starts reverse engineering and hacking the software more, and what could be achieved by doing it.
More...
Credit: BitBurners