Seagate has announced its new 750GB hard drive. The Barracuda 7200.10, with its 750GB capacity, represents one of the largest drive capacity leaps ever, as until now, drives had topped out at 500GB.
Seagate's new drive uses perpendicular recording technology to record the individual bits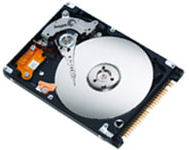 vertically instead of laying them out longitudinally on the hard drive platters. It was Maxtor (which was recently acquired by Seagate) that first developed a cost-effective means of manufacturing perpendicular drives, but it took another two-plus years before the first drives came to market. Seagate's initial effort was a 160GB laptop drive that used the same amount of physical space as longitudinal 120GB drives. Last week, the company came out with a 300GB SCSI hard drive.
Seagate's new Barracuda 7200.10 is a Serial ATA drive and comes with either 8MB or 16MB of cache. As is the case with all of Seagate's drives, the 7200.10 has a 5-year warranty. Suggested retail price is US$559 and the drives are supposedly in transit to distributors.
More...
Credit: ars technica