The reason for the switch is not raw computing power, but energy efficiency. Edelstone writes that the new industry buzzword of "performance per watt" is what drove the purchasing win for AMD.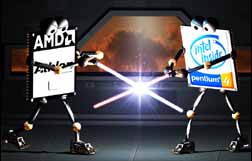 This is somewhat ironic given Intel's recent emphasis on performance per watt, albeit primarily for their laptop line of Core Solo and Core Duo processors.
On the server, however, it is a different story. Despite the fact that battery life is not an issue, rising energy costs have caused the industry to start looking at power efficiency in a whole new way. According to Urs Holzle, Google's vice president of engineering and operations, the cost of running a server 24 x 7 x 365, for its three-year lifetime starts to approach half as much as it cost to buy the hardware initially. For a company like Google, which runs thousands of servers constantly to provide its core service, these costs can add up.
More...
Credit: ars technica