Toshiba Launches World's First Notebook PC with HD DVD-ROM Drive in Japan. "Qosmio G30/697HS"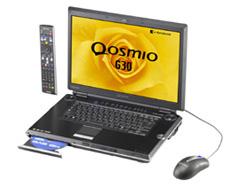 will be available in the Japanese market in mid May, as the latest product in Qosmio line-up of AV notebook PC series. Along with playback of HD DVD content, the new Qosmio can read and write to current DVD and CD discs, including DVD+/-R DL (dual-layer) and DVD-RAM.
The most striking feature of the new Qosmio is its 17-inch diagonal widescreen, full-HD liquid crystal display. This WUXGA display supports 1920 x 1200 pixel resolution, achieving true high definition and the ability to playback HD DVD content (1920 x 1080 pixel). Beyond this, the new Qosmio also integrates an HDMI output in its external interface, allowing the PC to be hooked up to an HDTV and to act as the video source for a large-sized TVs or home theater projectors.
More...
Credit: BitBurners