Are you a fanboi?
I mentioned in the last news roundup that Capcom had set up a countdown clock to reveal something. "Prepare Yourself" was the only clue as to what was set to be announced. PS3 owners, who were in quite a state after Capcom had dropped PS3 support for Monster Hunter 3, were eagerly awaiting this announcement to be a PS3 related surprise/apology from Capcom. Well, the countdown has reached zero, and the big surprise is Street Fighter IV, but no platform release information as yet (most likely cross platform). Around the same time, it was also announced that Lost Planet would make its way to the PS3, but this was met with a collective "meh" from the PS3 crowd – a year old Xbox 360 game is not what they were waiting for. You can read all the posts from PS3 fans on the Capcom forum on this apparent betrayal (the thread titles "I am _so_ done with you Capcom…", "So disappointed at you Capcom…" and "Why Lost Planet?" sums things up). Then rumour circulated that there was to be a further annoucement on Friday – whether this is genuine or just some confusion in regards to the date of the countdown, we'll find out soon enough (tomorrow).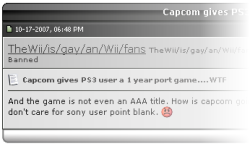 Anyway, what I wanted to talk about wasn't Capcom or PS3, but rather, this culture of fanboism (or the political correct version, fanpersonism). This Capcom "saga" is just one example, and it goes beyond simply gaming, to everything from Mac or PC to Blu-ray or HD DVD. I can sort of understand people supporting Star Wars over Star Trek, but to support and, dare I say it, *love* a corporate produced royalty generating brand name like Blu-ray or HD DVD? Have people gone mad?
I guess some feel the need to actively support something simply because they've paid good money and want some reassurance that their choice was the right one. But for a true fanboi, this is not enough. They must actively oppose the competitor with such enthusiasm that borders on fanaticism. People feel personally insulted if the product they purchased has been rubbished in any way, even when secretly they know the criticism is probably justified. Have we become such slaves to consumer culture that we must submit our loyalty towards brand names in the same way we devote ourselves to our religion, or heavens forbid, our sports teams?
Now before I go any further, I must admit that I too have been caught up in fanboism. As an owner of a Xbox 360 and HD DVD supporter, I can easily choose a corner to stand in, since the "enemy" for both the Xbox 360 and HD DVD is Sony. And I must admit, I have often posted here and in the forum a very clear bias towards the PS3 and Blu-ray, not that I don't have good reason to do so (and also personal reasons that I cannot go into further). But sometimes even I am amazed at my emotional state when important news breaks, such as Paramount's decision to go HD DVD exclusive, and news of Blu-ray's further dominance of the HD market. I too, feel joy and anger as if my personal honor has just been lauded or insulted. Even with the Capcom story, I felt a degree of (I don't know how to put it in more formal language) "wanting-to-rub-it-in-to-the-face-of-PS3-fans-ness", even though the news means nothing to me on a personal level.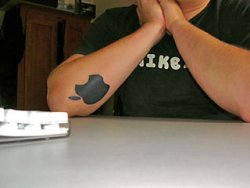 It is not enough that a new game is announced for the PS3 – it *has* to be an exclusive to make the news give you joy. It's not good enough that PS3 owners get to enjoy Street Fighter IV, the first Street Fighter game in a decade, on the console of their choice. But the feeling that the same game will end up on the Xbox 360, well, feels more like a slap in the face than anything else.
Luckily, I have not fallen that far yet. I can still enjoy the fact that I will be able to play GTA IV on my Xbox 360 without the knowledge that it's also available on the PS3 getting me down. Exclusive GTA IV content on the Xbox 360? Well, that's just icing on an already delicious cake, nothing more and nothing to gloat about.
Okay, maybe just a little gloating …