Where are my free movies? More BD+ nonsense. Is your TV HD?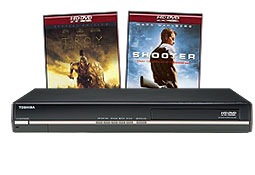 If you're not all that concerned about who will win the HD war, or don't mind having two separate players to play your HD movies, as opposed to a combo player, now is a great time to buy a HD DVD or Blu-ray player (at least in the US). Due to the increased competition between the two HD camps, you will more than likely get a bunch of free movies whenever you purchase one of these players. For HD DVD, you get 2 movies in the box (300 and The Bourne Identity) with the new Toshiba HD-A30 player, a form to fill out to get another 5 from a list of 15, and then another 2 free movies if you by from Best Buy – that's 9 free HD DVD movies for the $399 player – more details here. For Blu-ray, the five free movie campaign has been extended and you get to choose 5 free movies from 18 titles if you buy certain Blu-ray players, including the PS3 – more details here.
Now for those that don't live in the US or Canada, these offers are not available. Nor are they available to those early adopters who have already made their purchase, which I think is a real shame. Yes, it's true that there is nothing to gain from Sony or Toshiba offering free movies to existing owners (other than customer satisfaction, but how much is that worth these days), but you have to feel for those that purchased players at twice the cost, with no movies, maybe only less than a year ago. I don't think I can be considered an early adopter, although I did buy the Xbox 360 HD DVD add-on drive within a week or two of it being released here in Australia – I did get the King Kong HD DVD movie for free, but had I purchased the drive from Amazon, I would have gotten a lot more free stuff (for cheaper as well). I'm not saying give all early adopters 9 free movies, but perhaps as a gesture of goodwill and thanks, maybe some kind of exclusive two for one deals or giveaways for these (relatively) long time supporters. At the very least, extend these free movie offers to other countries.
More BD+ Nonsense

Engadget HD has a story about Fox's new BD+ Blu-ray movies, and how they won't work in players that have not had their firmware updated. The screenshot, curtesy of Engadget HD, shows the error message shown when a non BD+ capable player tries to play a BD+ protected disc. A link, which redirects to the Blu-ray Disc Association's updates page (with links to different manufacturer's firmware update pages), is shown. A firmware update can be quite risky, especially if you don't know what you are doing. For example, if the power goes out during a firmware update, the player's software might get scrambled and only a visit to a repair center might be needed (I'm not even sure firmware updates are even covered under warranty). And for those players without Internet connection, you will have to download the firmware, burn to a CD or DVD, insert it into the player and pray that the power doesn't cut out.  
A quick primer on BD+ (for more, read my High Definition DVD FAQ), it is yet another layer of copy protection that executes code stored on the disc to prevent playback – it might be more effective than AACS because BD+ is title specific, meaning each BD title will have it's own copy protection logic, and a hack to get rid of it will have to be made per movie, rather than having a single key that works on a whole lot of movies in the case of AACS. Of course, professional pirate groups won't be too bothered, and remember, only one "ripped" copy of the disc is needed to enable pirated copies to be distributed. In other words, it's yet another layer of DRM to annoy legitimate consumer, and at the same time, do nothing to stop actual piracy. And as Engadget HD wisely recommends at the end of their article:
We'd tell you to avoid titles with BD+ for now, but there's no way to know just from looking at the package, so just avoid just avoid these two Fox titles for now (The Day After Tomorrow and Fantastic 4: Rise of the Silver Surfer).
Is Your TV HD?
The results from our last non scientific poll has revealed that 47.6% of voters said that their TV only did SD resolutions, while 30% said it had a native resolution of 720p, and only 22.4% said that it was capable of 1080p. To be honest, that's not too bad – a majority of people with HD capable TVs, although the type of visitors that visit Digital Digest will almost certainly be more likely to have HD already than not. If you fast forward another two years, I think the percentage of 1080p owners will be a lot higher, and I don't think you will be able to buy a new TV that is not 1080p.