ImgBurn is a fantastic program that burns all sorts of image files. I use it as my main program for burning DVD's and CD's. ImgBurn is constantly being updated to be compatible with new burners/writers. ImgBurn was created by the very same person that created the infamous "DVD Decrypter". ImgBurn is actually a updated version of the burn engine from DVD Decrypter.
ImgBurn will accept the following images to burn:
BIN
CDI
CDR
DI
DVD
GCM
GI
IBQ
IMG
ISO
LST
MDS
NRG
PDI
UDI
---
Go ahead and stick in a blank disc in your DVD Burner/Writer. Now start up the ImgBurn program. [Screen Shot Below]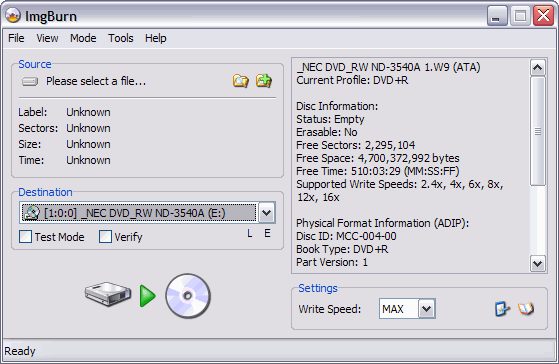 ---
First thing you need to do it load the image file that you want to burn, so click "Browse for a file" button (blue) and find the file. Then below that button is the "Destination" box, here is where you need to tell ImgBurn which burner you want ImgBurn to use when burning your disc (red). [Screen Shot Below]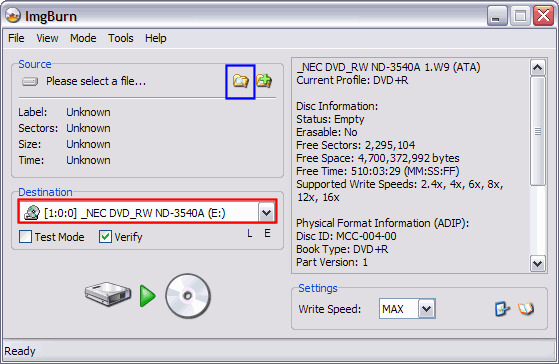 ---
Next thing to do is change the write speed (green). By default, it should say "MAX". You don't want MAX, the faster you burn the more prone you are to getting errors or a bad burn. A good rule of thumb is to burn half the max rated speed. What I mean is if the disc's are rated at 16X, then you would burn them at 8X. If the max rated speed is 8X, then you would burn them at 4X, etc. So lets go ahead and change the speed down to 8X since I am using 16X rated disc's. [Screen Shot Below]
---
Now this step is purely optional, although recommend. There is a little box below the "Destination" box that says "Verify" (red). Putting a check mark in that box allows ImgBurn to check the newly burnt files against the files it actually burnt from. Its basically to see if you had a good or bad burn. It kinda sucks to get half way through a movie and the disc locked up or freeze on you. I do it on all my backups! [Screen Shot Below]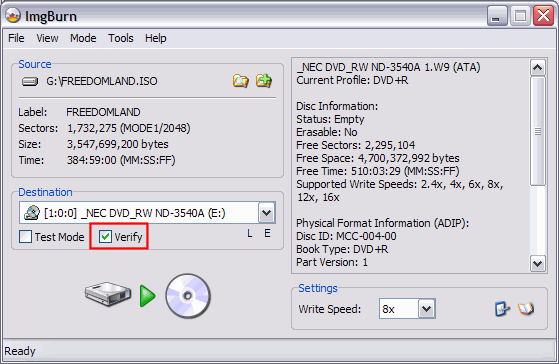 ---
When you are ready, click the Write button (blue)! [Screen Shot Below]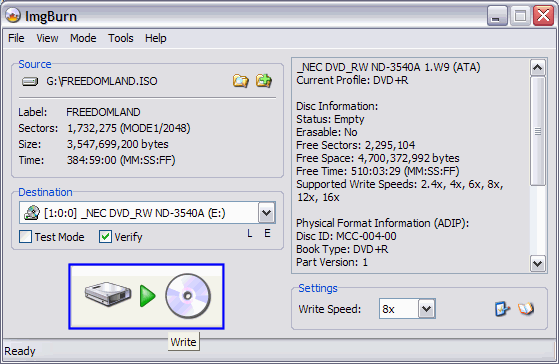 ---
The "Queue" function of ImgBurn is extremely nice. It allows you to load multiple images in the queue just waiting to be burned. After you load the queue, all you have to do is put a new blank disc in when ImgBurn gets finished burning the previous one. Its rather nice actually!
The "Queue" can be loaded with images either before you start burning or even after you have already started burning. To load the queue before you start burning, just click the little folder with a green plus sign on top of it (green). Then click the "Add" button (purple) to load your images. Then click the "Close" button (gold) when you are finished. [Screen Shot Below]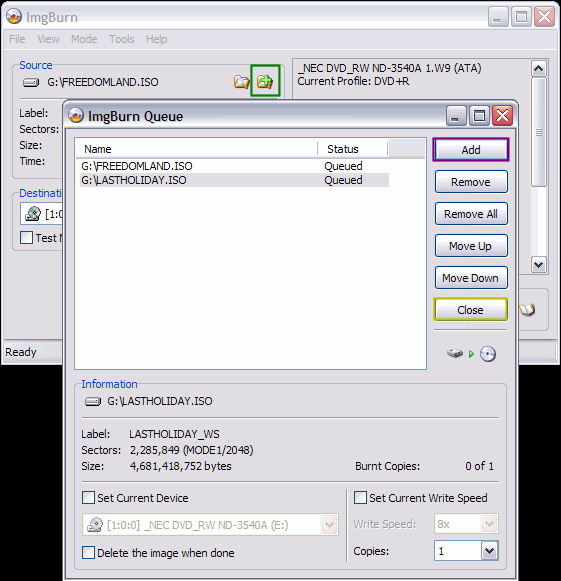 To load images into the queue after you have started burning, click "View" at the top (red), then click "Queue" (blue). [Screen Shot Below]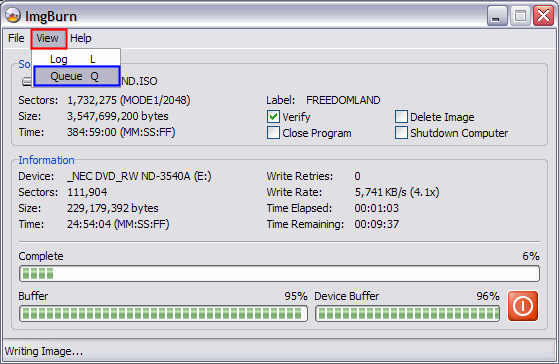 ---
This screen will come up, just do as before. Click the "Add" button (green) to load new images in the queue, and then click the "Close" (purple) button after you are done to return to the main ImgBurn screen. [Screen Shot Below]