Blu-ray Sales Analysis – May to August 2008
This is going to be a new feature that will be published from time to time. A couple of months ago, I started collecting and posting weekly Blu-ray and DVD sales figures published in Home Media Magazine, and provided by Nielsen VideoScan, which looks at many retail outlets and provides sales the figures.
There's a lot of misinformation when it comes to Blu-ray sales figures, mostly due to PR and marketing people doing their job. But these sales stats should provide a clearer picture of what is actually going on in the world of HD (vs SD), and how Blu-ray is doing when compared to DVD sales.
Let me first show you two graphs: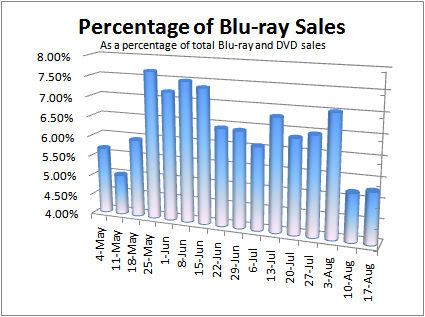 The first graph shows Blu-ray sales as a percentage of total sales (of both Blu-ray and DVD sales combined). The dates on the bottom corresponds to the weeks ending on these days. For example, for the week ending August 17th, Blu-ray sales accounted for 5.27% of total DVD and Blu-ray sales.
The second graph show the actual sales volume for the same time period (for example, for the week ending August 17th, $6.19m in sales was recorded for Blu-ray).
Since I only started collecting stats from May 4 for both Blu-ray and DVD sales, there's nothing that I can publish from before this time. Just as well as May marked the last month that a HD DVD movie was scheduled to be released, so from this point on wards, the war is now between Blu-ray and DVD well and truly.
So what does these graphs tell us? Not a lot, apart from that it's still early days and that Blu-ray sales are still struggling at this stage. Looking at both volume and percentage, August ended much like how May started. Blu-ray sales were between 5% and 8% of total sales. That's respectable, but it's hardly the kind of results that many expected after the death of HD DVD, at a time when Blu-ray has no like-for-like (HD on a disc) competitor in the marketplace.
There was a peak in June, most likely due to releases of certain blockbuster titles at those times. The peak in sales also corresponded with a peak in the Blu-ray vs DVD sales percentage, which suggest that Blu-ray sales is still largely dependent on what is available for sale. Because I think Blu-ray is still largely being supported by early adopters and the more serious movie collectors (those that buy movies on the release date, rather than wait for a few months for the eventual price drop – DVDs have a monopoly on these sort of sales, mainly because Blu-ray prices don't drop with any conceivable pattern), this translates to bigger slice of the sales pie whenever a good release (that benefits from HD) is available. Look for Blu-ray sales to peak again when movies like Iron Man, The Dark Knight are released later in the year.
Just to expand on the point about budget movies, this is still an area that is dominated by DVDs. I recently purchased some movies including Revenge of the Nerds and Hot Shots! And I suspect the bulk of DVD sales are made up of titles such as these. These movies are not available on Blu-ray for one, and even if they were, they would be too expensive. And further more, even if they were just slightly higher in price, there's very little benefit in watching these types of movies on Blu-ray (a lot of these films weren't even recorded with multi-channel sound, and aren't "important" enough to get the full proper HD transfer). This is why, I think, DVDs will be around for some time yet. I don't know if Blu-ray sales can ever overtake DVDs, not until studios stop producing DVDs anyway. Most experts predict that Blu-ray vs DVD sales will reach 50-50 by 2012, so there's still plenty of time for Blu-ray to reach this target. But many also predict other video delivery platforms, such as online streaming and downloading, might be of more interest to people by then.
Anyway, I'll be back in a few months time with an update to this post. It will be interesting to see what effect The Dark Knight has on Blu-ray sales (I think this one will break all records). See you then.