Dream Machine
Lately, I've been dreaming about the perfect hardware video player. Currently, I have a Momitsu V880N upscaling DVD/networked video player. I like this machine because it allows networked DivX/XviD playback, as well as DVD upscaling up to 1080i. I know that eventually, I will have to replace it with probably a dual-format (Blu-ray/HD DVD) HD player, but looking at the current selection, none of them really gives me exactly what I want.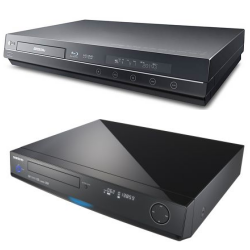 The early dual-format offerings by Samsung and LG looks pretty good, but neither offers networked DivX/XviD playback (although I could probably do without it since I've connected my PC to the TV and I've been using it more and more). I'm also concerned about their region-free status when it comes to playing DVDs – region-free DVD is perfectly legal here in Australia.
So anyway, here's a wishlist of what I want in terms of my next video player (some obvious ones, such as HDMI, has been left out since these features are not optional). It's unlikely a player will ever have all of these features, but one can dream …
DVD/video upscaling using Silicon Optix's Reon VX chip
Region-free DVD playback
Blu-ray (profile 2.0) and HD DVD playback
DivX/XviD playback
H.264 and VC-1 (WMV) playback
Networked video playback through wired ethernet or wireless
1080p/24 output
50, 60, 72/96/120 Hz output for video playback
If such a machine does eventually exist, it will come pretty close to being a media center PC, so perhaps going down the PC route might be the most realistic.