Cisco officially announced today the release of "Cisco Unified Communications," a broad marketing initiative that brings together updates to a whole suite of Internet telephony products and services.
First up is the Cisco Unified Personal Communicator,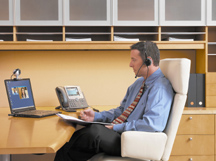 a software program for Windows that offers an easy-to-use graphical interface for the user to navigate through the existing maze of voice communications products installed in their business. The user can click on a contact and find out where a person is whom they want to contact, and the system will automatically route the message to the most optimal communications device (mobile, pager, e-mail, VoIP phone, etc.)
More...
Credit: ars technica